CJSF Presents: EDM Pub Night @ The SFU Highland Pub
Start the 2014 fall semester off right. Join CJSF 90.1 FM at The SFU Highland Pub for EDM Pub Night!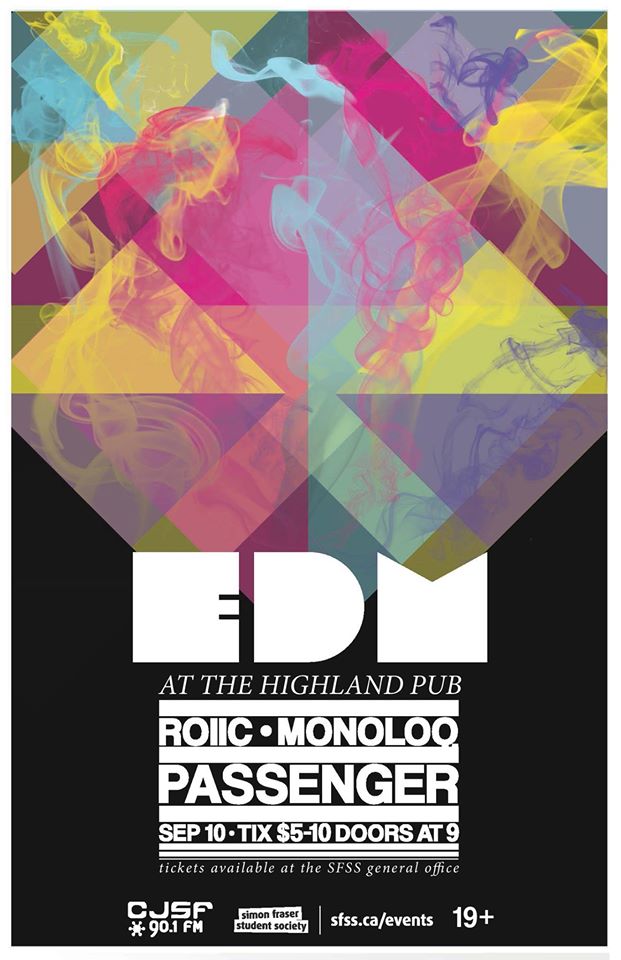 We will have special DJ talent spinning a variety of electronic dance music with a focus on the soulful, the deep, the french, and the funky~! Along with great drink specials! 
Tickets can be purchased at CJSF or the SFSS General Office MBC 2250.
Prices:
Advance- $5 
At the door till 10pm- $8 
After 10pm - $10 
+++++++++++++DJs+++++++++++++++++++++++
ROIIC
Roiic (Mori Zuiten) is a music producer, DJ and 1/2 radio host of THE EDM SHOW, an electronic dance music variety show that is broadcast live Friday nights at 10pm [PST] on SFU's CJSF 90.1FM, Burnaby, and Sunday nights on Vancouver's own online radio station Radio Toxic. Roiic has performed with MSH Sessions, Twisted, SFSS/SFU, W2 Media Arts, and has opened for The Funk Hunters, Savant, Mochipet, Sneaky Sound System, and Froland. Formerly a violinist and professional opera singer, Mori has an extensive background in classical music, having performed with the Vancouver Metropolitan Orchestra, toured Italy with Lord Byng Symphony Orchestra, represented Canada at Llangollen International Vocal Competition in Wales, UK, and having landed a supporting role in Vancouver Opera's original production of Mozart's "The Magic Flute" at the age of 16. Mori/Roiic is now focusing her efforts on releasing her first original EP "TAME" in the new year, and will be attending Nimbus School of Recording Arts in January 2014 for audio engineering and production.
"Like" her on fb at https://www.facebook.com/roroluvstep
http://www.soundcloud.com/roiic
+++++++++++++++++++++++++++++++++++++++
MONOLOQ
As a live performer, DJ, & producer, Monoloq's passion for the electronic and digital side of music shines bright and is projected to those around him. He is an avid french house, deep house, tech house, and nu-disco lover. He co-hosts The EDM Show, a weekly radio show which features local electronic music artists and DJ's. You can tune in live every Friday night from 10pm-12:30am on CJSF 90.1fm, every Sunday night from 8pm-10pm on www.radiotoxic.com, and every Monday night from 8pm-10pm onwww.thedrop.dj. You can find out more about his radio show atwww.theedmshow.ca
http://www.soundcloud.com/monoloq/
http://www.mixcloud.com/monoloq/
+++++++++++++++++++++++++++++++++++++++
The Passenger
Occupying a uniquely woozy and acid-tinged zone, Jesse Creed, AKA THE PASSENGER, uses a potent musical alchemy to guide us through a foggy dreamscape of half-seen landscapes and out into the light. The NEGATIVE OBJECT EP comprises four new tracks that unfold like a party in reverse: the journey begins with the wistful, yearning regret of 'Heart(s) Faded' and onwards with the broken machine chug of 'Negative Object'; then the fluid sci-fi swagger of 'A Stream Past The Meadow' builds into the midnight acid of 'Summer Moon'.
https://soundcloud.com/the-passenger
To RSVP on Facebook
Posted on:

12 April 2016

By:

Administrator