Circuit Des Yeux
I'm walking into this concert knowing three things about Circuit des Yeux: she is a woman, she is signed to Thrill Jockey, and she plays instruments and sings. I hadn't heard one single note of music from her, but Thrill Jockey is my stamp of quality. I could have of easily of listened to the album, but I chose not, not until I bought it, as something resonated with the album artwork and the name. I just knew I would enjoy it. And I did. A powerful live experience would serve as my introduction to Circuit des Yeux.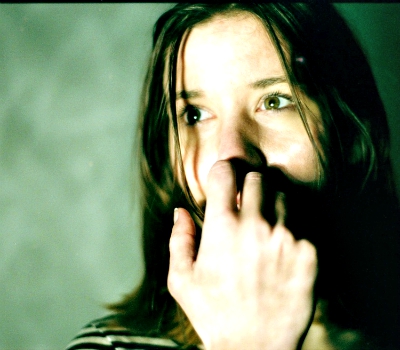 Marisa Anderson and Ora Cogan are the openers. Tonight is a triple onslaught of women with guitars. Fellow West Coaster, Ora Cogan opens the show with the statement, "It feels like a Sunday, but it's not." The crowd is scarce, maybe 10 to 15 people. I'm annoyed! Come on people! A sad turnout indeed, but this meaningless as Ora's guitar and voice fills The Cobalt with warmth, and she knows how to fingerpick the guitar in such a way sends a cascade of music towards us. It is just her, and her guitar. The songs are emotional affairs, ready to soundtrack any dusty desert landscape. She closes her set with a lovely cover of Buffy Sainte-Marie.
Marisa Anderson is up next, and she plays instrumental blues. This is a rare event, as it is not everyday you can witness such a typical masculine act such as creating a solo piece of blues music, but crafted by a woman. Marisa absolutely puts together some of the most beautiful and well played guitar compositions I've heard in a long time. We need more femininity injected into guitar music. The world  is rank with cutesy female synth-pop music, but what we need now is more female interpretation of the guitar. Her guitar work is stellar and so is her character. Marisa is a interesting individual, filling the gaps between songs with dialogue of backstories of fallen soldiers and rebelling against fascism. Another great set of tunes.
Finally the time has come for Circuit des Yeux to shine, aka Haley Fohr, a Indiana transplant now working in the Chicago scene. Haley steps on stage with a four piece band, bassist, drummer, violin player, and sax player armed with another tom. They jump right into it, full blast. Haley's voice is force to be reckoned with. From the first note I am surprised, there is no soft and feminine character but a deep and rich voice, much like Antony Hegarty's almost. The band is clearly not needing a song or two to get into the swing of things; they were tight band, playing a powerful set. There is space to these songs, allowing the songs to drift and float where they want, or where at least Haley wants. The songs shift into instrumental sections, as there seems no need for a 3 minute song. Haley, again like every other artist tonight, is a very skilled guitarist.
The show ends with a sprawling piece, Haley positioning her on all four and adjusting her mic for easy access to her pedalboard. Nothing too noisy, just the right amount of blurred lines that separates the composition and the improv. I buy a Circuit cassette for $5, and I leave The Cobalt one of the lucky few to experience a triple header of women that truly rock.
Posted on:

12 April 2016

By:

Administrator