12th Annual CJSF 90.1 FM Party!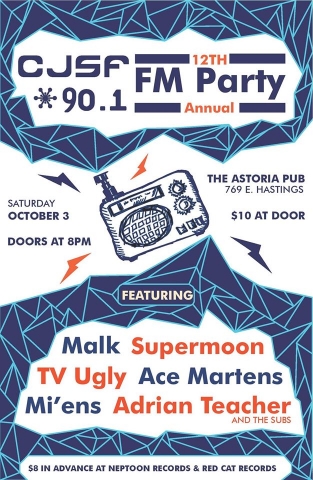 To celebrate their 12th Anniversary at 90.1 FM CJSF is throwing a huge party: On October 3 from 8pm -2am. CJSF is take-over at the Astoria Pub for the third straight year with some of Vancouver's most exciting musicians. Guests include Adrian Teacher and the Subs, Mi'ens, Supermoon, MALK, Ace Martens and TV Ugly.
About CJSF 90.1 FM:
As SFU's Campus/Community Radio Station, CJSF 90.1 FM has been melting ears on the FM dial since 2003 and broadcasting from Burnaby Mountain since 1973.  With amazing local, independent artists and diverse, off the beaten path spoken word programming, CJSF strives to provide points of view that are rarely expressed in mainstream media. This includes music that isn't top 40 and news that isn't on the big media outlets. As a non-commercial station, CJSF takes pride in being an alternative to mainstream media and offers the public a forum for expressing points of view that otherwise may not be heard.
Bands
Ace Martens
Ace is a guitarist/songwriter with a weird pop and DIY ethos. Drawing heavily from late eighties/ early nineties English and American indie guitar rock, he layers textures and riffs to combine influences (China Crisis, Dinosaur Jr., Swirlies, Roxy Music) into something not heard before, but comfortable in its familiarity.
Adrian Teacher and the Subs
Adrian Teacher is a Vancouver based songwriter and performer best known for his work with Apollo Ghosts, COOL TV and as a back-up musician for several independent bands. He has been self-releasing music for over ten years. His album Mount Benson was nominated for the 2010 Polaris Music Prize and he was the Sappyfest songwriter in residence in 2011.
The SUBS feature Amanda P. on the kit, Robbie N. on the bass and a variety of other talented musical contributors.
Adrian has been fortunate enough to collaborate with many musicians, including: Dirty Beaches, Karl Blau, Shawn Mrazek Lives,Julie Doiron OK Vancouver OK, Rose Melberg, Chris-a-Riffic, Jay Arner, Gal Gracen, Lisa Marr (Cub), Steve Lambke, Shotgun Jimmie and the ravaged production minds at JC/DC studios. 
Adrian's first solo EP, Sorta Hafta, was recorded at Dub Narcotic studios in Olympia, WA by Calvin Johnson (K Records).
MALK
"As I'm sitting with the band members in Victory Square, I can easily imagine MALK returning next summer to grace the stage at Music Waste's Block Party. The band's brand of infectiously dark, surf-pop songs would be perfect for an afternoon spent at the outdoor affair, the noir-pumped vocals of Alex Smith and Miranda Maria sure to delight the crowd.
While Smith and Maria frequently employ a call-and-answer dynamic, the two singers­ — with the help of lead guitarist Kyle Schick — can often be heard highlighting each other in a medley of three-part harmonies. On top of haunting vocals, much of the band's distinctive sound can be attributed to Schick's edgy guitar lines. The guitarist draws from a wide range of influences to craft his own tone." 
- Keefer Pelech, Discorder Magazine)
Mi'ens
"Mi'ens is a math-rock duo from Vancouver, with Evan Johansen on drums and Kim Glennie on guitar, loops and the occasional vocal. On their latest album they bring vibrancy, warmth and joy to a genre that is too often dismissed for being overly clinical. And it's nice when a band gives you a title that pretty well sums it all up — 'experimentalsparklenoisepop'. Yup. "
- Mark Anthony Brennan, Ride The Tempo
Supermoon
"From the ashes of Movieland, a new squad of Vancouver fuzz-poppers emerges. The girls of Supermoon are suited up and ready for liftoff with their debut, Comet Lovejoy. A brilliant sugar rocket of twee-pop, S.S Supermoon climbs into the stratosphere before activating full thrust at halfway point (and album standout) "Powersuits," leaving behind a serpentine exhaust plume. Headed for the cosmos, this spaceship burns at full speed until Comet Lovejoy reaches its frenetic, panicked conclusion. You suddenly find yourself back on solid ground, experiencing a sugar hangover for the ages."
- Sam Joseph, Weird Canada
TV Ugly
Vancouver acts Thee Ahs and Supermoon share members with TV Ugly, and that latter project has released a brand new EP.
"The EP was recorded by Jo Passed and mastered by Julian Marrs, and showcases the band's penchant for gritty, melodic and addictive pop songs. 
Listen to UCLA Yankee Cola in full below. The release will arrive on a cassette on September 15 via Alarum Records."  -Josiah Hughes www.exclaim.ca
+++++++++++++Set Times++++++++++++++++
9:30 - tv ugly
10:10 - Ace Martens
10:50 - Supermoon
11:30 - Malk 
12:10 - Mi'ens
12:50 - Adrian Teacher and the Subs
Sponsors
We'd like to thank our generous event sponsors:
More Fun City
www.morefuncity.ca
Beatroute Magazine
www.beatroute.ca
The Schedule - SFU Party Calendar
www.facebook.com/theScheduleSFU
Interesting Vancouver
www.interestingvancouver.com
Creative Mornings Vancouver
www.facebook.com/CreativeMorningsVancouver
SFU's Vancity Office of Community Engagement
www.sfu.ca/sfuwoodwards/community-engagement.html
Groundswell - Grassroots Economic Alternatives
www.groundswellcommunity.ca
Van Music
www.vanmusic.ca
Posted on:

12 April 2016

By:

Administrator