Woman At War (Kona fer í stríð) / Dir. Benedikt Erlingsson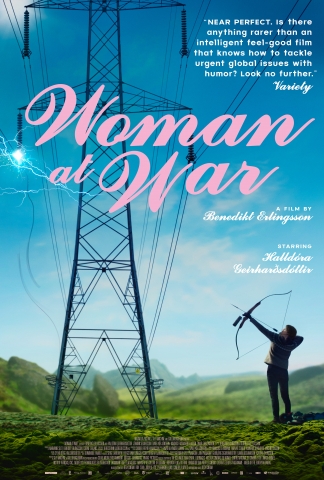 What does it mean to be a conspirator in times of ecological terror? For Benedikt Erlingsson's Woman at War, the answer doesn't arrive easily, but almost certainly involves the participation of a Greek chorus. A Greek-ish chorus, in this case: a live band and a trio of a capella Ukrainian singers follow fifty-something Halla (Halldóra Geirharðsdóttir) as she roams the Icelandic countryside, fighting—quite literally—for environmental justice.
Woman at War is steeped in ancient dramaturgical tropes that are rendered aflame with contemporary light. A beloved choir director, Halla lives respectably in a roomy, charming house; she rides her bike, smiles at passing neighbours, and partakes in meditative practices in her spare time. Halla lives a double life, however, as an amateur eco-crusader dubbed by the media as "Mountain Woman", cutting down power lines and dropping polemical leaflets, finding refuge from police drones in rivers, caves, and natural cracks in the earth. Few know of Halla's secret—one, the neurotic civil servant Baldvin (Jörundur Ragnarsson) who acts as Halla's insider; two, a highland farmer (Jón Jóhannsson) that she encounters soon after the film's breathtaking pastoral opening scene. Halla's cunning quest is simple: bringing attention to what seems to be the burgeoning environmental apocalypse by any means necessary. Stripped of the film's stylistic veneer, Halla sees herself as a fixer, and in a meeting with her eccentric twin sister Àsa (also played by Geirharðsdóttir) she states her mantra: "find solutions". 
But as we all know, there are no simple solutions to the breadths of this current world-reality. A long-awaited possibility of motherhood, reignited by the acceptance of a years-old adoption application, complicates Halla's mission, and her meddling sparks an intensifying international manhunt. Every one of Halla's sabotages creates a torrential outpouring that palpably affects the lives of everyone—workers, bosses, and Halla herself. These ripples lead a bemused public, not entirely unsympathetic but nevertheless unconvinced, to brand her a terrorist. To this point, Erlingsson draws on the painful question of political activism in an increasingly catastrophic world. How do singular acts of environmental terror measure up to the banal terror of living under a constant state of crisis? By what means can justice be delivered, through what tools, and by whose hands? Borrowing the words of revolutionary philosopher Frantz Fanon, how do we extricate ourselves from these incendiary times? What is the opposite of fire? Erlingsson backs away from taking a dogmatic stance, allowing the film to speak for itself: instead, we get flickers of vulnerability, doubt, and humanity that Geirharðsdóttir so evocatively captures.
Cinematically and stylistically brilliant, Woman at War defies generic expectations, balancing out serious subject matter with rays of levity; to go back to ancient Greek definitions, it is an elevated work that blends the 'highest' (tragedy) and 'lowest' (comedy) forms of theatre. One standout is the recurring arrest of Juan Camillo (Juan Camillo Roman Estrada), a foreign tourist who serves as a pseudo-pharmakos, scapegoated for Halla's crimes and by extension, the greater forces of social ill. To say the least, it is an audacious move on Erlingsson's part to present something so glaringly disquieting as a running gag, but it works seamlessly with the film's dark, idiosyncratic humour. We come back, then, to my opening question: what does it mean to be a conspirator in times of ecological terror? Erlingsson leaves the question hanging. Nothing is expected of the audience as is, really, with Halla; no one is expected to singlehandedly figure it out. But like the chorus that shadows Halla and her journey, in moments when singing is overtaken by the mark of silence, we are made to bear witness.
Woman At War opens in theatres in Vancouver March 15th
Posted on:

6 March 2019

By:

arts and entert...