The Wolf House: Film Review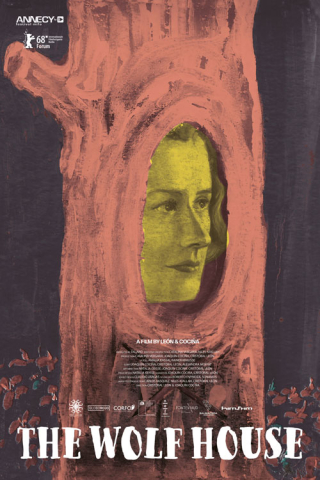 As an ongoing transitional space, The Wolf House by Cristobal Leon and Joaquin Cocina provides a hypnotic cinematic experience through an exemplary display of stop motion animation that removes any room for free floating contemplation. Told from the point of view of leader of Colonia Dignidad in Chile, the plot resembles an ideological attempt by Paul Schäfer to indoctrinate the inhabitants with a fairy tale. Instilled in a dream sequence, Maria, the protagonist runs away from the sect to live a life full of freedom. She discovers a house in South of Chile with two pigs as only inhabitants and explores all elements of fascism within series of sequences in the house.
The film breaks all the cinematic conventions as figures made out of cardboard, tape and paper transform from one form to another, never giving space for eyes to rest through continuous presence of a frightening rhythm. Shifting point of views offers flexibility to the narrative in addition to the enhancement of cinematic movements. It employs mostly medium and close up shots and enclosed boundaries of a room further restricts viewer's attention to the emotional sensibilities of the characters. With every passing second, metamorphosis of the house seeks an emotional response from the viewer as it enriches itself with series of symbolic elements and musical compositions.
Painstaking attention to detail becomes self reflective as objects reconstruct themselves, shifting from paintings on wall into three dimensional structures, rising up from ashes of flowers within series of seconds. Through its minimalistic dialogues and petrifying voice surrounding the house in the form of wolf, it not only hints to the gruesome acts by Paul Schafer but also explores the themes of dehumanization and identity crises. Maria finds herself in
a trap where dynamics of reality and dream are blurred. She is confined within a binary of morality and immorality where her actions suggest that morality itself is an spectrum that grows along her as we can see the pigs, she mothers turn into rebels.
Although the film offers plethora of sequences, it never provides a conclusion. It intentionally questions our reality and suggest an expressionist impression on viewer. It stamps the uncanny animations and figures on our minds with its never ending visual engagement. With exploration of a tragedy with such hazy loop of cinematic landscape, film offers an insight into realm of fascism in Colonia Dignidad.
A film by Cristóbal León and Joaquín Cociña
Chile - 2018 - 73min
Posted on:

17 November 2020

By:

arts and entert...