POM Wonderful Presents: The Greatest Movie Ever Sold
Morgan Spurlock sells out in his latest documentary "POM Wonderful Presents: The Greatest Movie Ever Sold" 
What do Ralph Nader, Noam Chomsky, and Brett Ratner all have in common? They are some of the high-profile interview subjects in Morgan Spurlock's new documentary "POM Wonderful Presents: The Greatest Movie Ever Sold". What do Mane & Tail, Sheetz, and Amy's Pizza have to do with the film? They are the sponsors of it.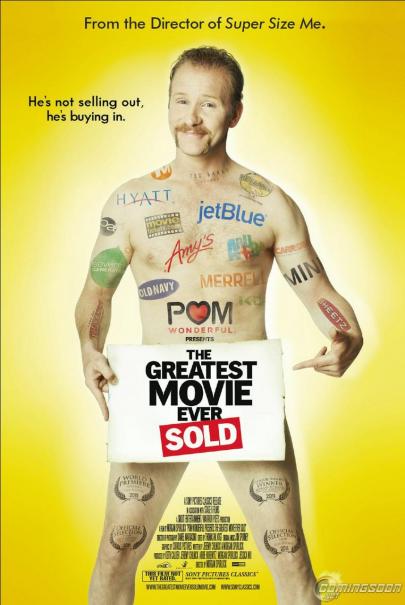 Director Morgan Spurlock (Super Size Me, 2004) believes Hollywood is overwrought with product placement and brand marketing. What does he then decide to do? Make a film chronicling the journey to create a film that is 100% funded & endorsed by brands.
His goal: be absolutely transparent with the process. In the film, we get to see the deals as they happen (or fall apart) and how the system works from its money-driven, deal-making n' breaking insides. For one million dollars, he sold the "above-the-title" rights to POM Wonderful Pomegranate Juice under the condition he would also appear in the brand tv ads - conditions also honoured by JetBlue Airways. 
While many documentaries fail crossing the threshold of being something more than didactic, Spurlock takes the genre into interesting territory by engaging with the subject matter while entertaining his audience. His reputation as a controversial player, quick wit and idiosyncratic signature add spirit to what is already a great concept. I cannot remember the last time I laughed so hard during a documentary. 
Did Spurlock achieve what he set out to do? I suppose he did. In end he was successful in getting the entire film funded by advertisers and brands – a modest 1.5 million dollars in total. The film does achieve the level of transparency that it set out to. And yet, something remains unresolved. The film fails to take us anywhere. It doesn't fall flat - far from it thanks to Spurlock's cleverness. But I'm not convinced it answers anything; or at the very least, it leaves things ambiguous and the audience just a touch unsatisfied. 
That being said, it is still a stellar film. Funny, entertaining, and thought-provoking.
*** 3 stars (out of four)
Posted on:

11 March 2016

By:

Administrator