Woman Giving Birth To A Red Pepper
As the lights come up on a threadbare stage,
a wooden chair awaits its dance partner
an upright bass awaits the dance
and a bowl of peppers sits, ripened by the sun…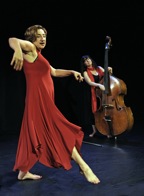 In her one-woman show Woman Giving Birth to a Red Pepper, SFU Faculty of Education professor Celeste Snowber gives a solid performance that "explores the lusciousness and absurdity of sensuality, the body and mid-life in all its limitations, beauty and paradox." The audience aches with laughter, applauds for more, and is inspired and awed by the beauty and elegance of Snowber's improvised movements, words, and wisdom. With a background in modern dance, education and theology, Snowber leaves us pondering her inspired inquiry of embodiment that is both comedic and profound.
The show takes us on a journey through Snowber's life, as a single mother raising three boys to a tenured professor who answers the call of both teacher and dancer, bringing embodiment to our lives and our learning. To the stage she brings many stories from her life, one in which she tells of being menopausal at the same time her boys are teenagers; with the whole family being hormonal Snowber decides it is time to give her boys "the sex talk" only to discover it is she who needs "the talk." As she weaves her son's voices (and suggestions!) into this tale, Snowber shares with us her experiences of growing up Irish-Armenian (with a mother who added worry to the food like it was a spice) to aging, getting her first good bra at fifty, and online dating.
Accompanying Snowber is award-winning classical bassist Jodi Proznick, whose music composition is not only complimentary to Snowber's script but also eloquent in its own right. The two are clearly in sync as is apparent by Proznick's musical interpretation of Snowber's description of the different types of orgasms a woman can have. Having been asked to explain this by a man she'd met through online dating, Snowber references this as qualitative research, something the academics in the audience find especially humorous. As Snowber makes her comparisons, Proznick follows along so that the screeches of bow on bass—from fast and furious to slow and steady—are hilarious, leaving us in fits of laughter. Their collaboration is lovely to watch and is much like a dance; theirs is a dialogue in which it is so smooth—and in sync—that it is hard to know where one begins and the other ends. It is orgasmic qualitative research like no other, and a standing ovation to boot!
Snowber's one-woman show was seen before a live audience at The Vancouver East Cultural Center on September 20 and 21, 2013.
To listen to CJSF interview with Celeste Snowber:
The Arts Edge (with Annie Roach) CJSF, Saturdays 6-7 p.m.
Part 1 http://www.cjsf.ca/vanilla_archives/2013_September_21_18_00.mp3
Part 2 http://www.cjsf.ca/vanilla_archives/2013_September_21_18_30.mp3
Posted on:

11 March 2016

By:

Administrator