Dance Marathon
CJSF volunteer Anna Grabowski reviewed as well as participated in The Dance Marathon  at the Roundhouse Community Centre. The event was inspired by the popular spectator sport from the Depression-era North America, and this is what she says...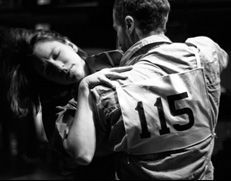 The Olympics came earlier than expected this year with teammates poised to take home the gold at the Boca Del Lupa, Dance Marathon held on February 10, 2010 at the Roundhouse theatre.  As we love to boogie, this promised to be all sorts of good old fashion fun! Immediately upon arrival contestants were presented with a number and a waver, which made me question what I had gotten myself into. Images of 1920's Iron man-style dance marathons came to mind and I had to reassure myself that the event was only four hours long. I have participated in many dance events through out the years and thought I could definitely hold my own. However, as soon as we were faced with the first dance off of the evening (the Madison), I realized that Sperry Topsiders were not the best choice in footwear and my dance moves had not evolved a great deal from grade 7 auditorium slow dances. Nevertheless, my dance partner and I were here to win.
The Toronto based Boca Del Lupa describes their production as an immersive and competitive theater performance where contestants must constantly remain in a non-motionless dance-like state while being entertained by a barrage of entertainers which ranged from rock to slam poetry (ever tried dancing to snapping fingers?)  We watched as contestants ranging in age from 9 to 90 graced the dance floor. The lively jazz band, glamorous hosts, talented musicians and a cast of characters that included people who sure knew how to move continually enchanted the crowd. It was difficult at times to take in each an unique musical ensemble while remembering that it is a competition and at any moment a zany referee on roller-skates may swoop by and strip you of your number as well as your dance dignity. Competitors were called upon to perform the special skills they had mentioned during their registration, which ranged from belting out a soulful melody, a politically infused slam poetry session, and even a harnessed aerial dancer clad in a bathing suit. The unrelenting curiosity and anticipation of what was to come next kept the competitors eager to dance right to the end (I even noticed a few eliminated dancers in the conga line.)
When we were finally eliminated during a tango-style red light/green light race around the room, I was not saddened with the heavy feeling of loss but excited to sit and watch as the competitor numbers dwindled and the challenges intensified.  With a handful of competitors left, Boca Del Lupa made sure that the semi-finalists rightfully earned their prize with a hilarious dance off judged by none other than Vancouver's talented Company B who also took the stage earlier that evening. It was fitting that finalists included two audacious teenagers and an energetic elderly couple but in the end the youth prevailed. This theater troop's interactive spectacle enthralled me from beginning to end and I recommend this retro dance-a-thon for all you rug cutters out there. 
Posted on:

11 March 2016

By:

Administrator